About Fleur de Lis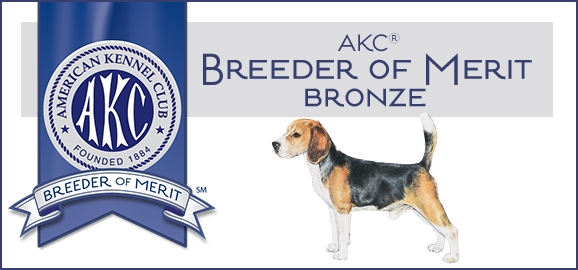 Fleur de Lis Kennels (an AKC Bronze Breeder of Merit) is a collaboration of Jennifer Bell and Jennifer Bewley Robbins. The "Jennifers" met at a Great Dane Club of Louisiana meeting in 2000, soon learning they had the same goals in mind for breeding the best Great Danes possible. Through a lot of hard work and determination, champions were born. Jennifer Bell is an AKC Breeder of Merit having bred/co-bred, owned/co-owned, and handled many health tested Beagle and Great Dane Champions and Grand Champions thus far. After much heartbreak and dismay, she decided to branch off into Beagles and they have become her absolute heart breed. Both Jennifers now co-own only Beagles with each other and several other owners. Together, they breed 2-3 Beagle litters per year at most. Jennifer Bell is an AKC judge of Beagles, Great Danes, Labrador Retrievers and Junior Showmanship, and is lucky to have a husband, Hank, who appreciates and shares her joy with the dogs.

Currently, Jennifer Bell shares her home with GCHG Rebel, GCHS Noelle, GCH Madison, CH Phoenix and Sera. Many others come and go regularly for enjoyment, training and just grandma time! Jennifer Bewley Robbins shares her home with GCH Whiskey, CH Bett-E, and CH Boss, plus many other Beagles who go for play time regularly. Please enjoy our website!

We are proud to be a member of Good Dog, fully vetted by their staff and learn from their educational tools.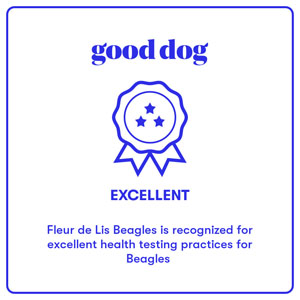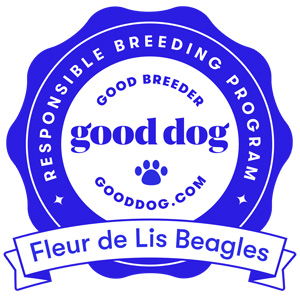 All Fleur de Lis puppies that leave my home are Embark tested for over 160 genetic diseases, first. The health of our puppies comes first and foremost before all else.





Our puppies are proudly trained using the Puppy Culture method. For more information on Puppy Culture, visit their website HERE.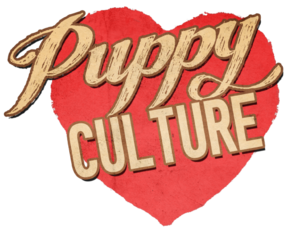 Fleur de Lis Beagles feeds and recommends Royal Canin dog food. Please feel free to ask for recommendations on this excellent brand of food. And also, we will be happy to recommend a representative in your area.