Available Puppies or Adults
We may have puppies available from our current litter. Stay tuned to this page for updates. PLEASE READ OUR POLICIES BELOW!
CH Fleur de Lis' Louisiana Lady, AOM "Lainey" was bred to BISS GCHS Fleur de Lis' Happiness Is A Warm Puppy, AOM "Linus"
An all black tri was born June 30, 2021. 4 boys and 1 girl
Click on the pedigree below to enlarge.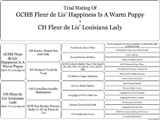 Effective May 1, 2021 (due to the increasing prices in pet health care): ALL show or pet quality puppies are $2000. ALL Fleur de Lis puppies go home with at least 1 set of shots, depending on age possibly 2 sets and also fully de-wormed. We utilize the Jean Dodds Vaccine Protocol. NO puppy leaves our premises prior to 9 weeks of age. ALL puppies have an Embark panel done to test for over 160 genetic diseases specific to Beagles. ALL puppies include a microchip registered to the breeder and the new owners. We send puppies home with a packet full of information and a Royal Canin puppy pack. Our puppies come with a lifetime of breeder knowledge, care and mentorship.
No one is put on a waiting list unless a completed application and screening is complete. We do NOT take deposits. Our puppies come with a strict contract. Companion puppies (pets only) will be spayed/neutered no earlier than 12 months but by 18 months and are put on AKC Limited Registration. All show puppies are co-owned with the breeder until the show contract is fulfilled.
Stay tuned for details on our litter announcements. Pedigrees and information are available upon request. Pet or show quality puppies may be available from our litters.
Health testing we perform on stud dogs and dams: Embark Beagle panel, OFA hips, CERF eyes (by board certified opthalmologist) and occasionally, hearts tested by Doppler and thyroid panel.
To be considered for one of our puppies and to be placed on our waiting list, please complete our
PUPPY QUESTIONNAIRE
.
Feel free to
email
for more information. In case our waiting list is full, there may be Beagle breeder friends who have puppies, or young/older adults available for placement and we'd be happy to refer you to them.
Follow us on Facebook to see updated dog and puppy photos regularly.