Our Dogs > Eleanor
GCH FLEUR DE LIS' MUSTANG SHELBY GT500
"Eleanor"
Bred by Jennifer Bewley Robbins and Jennifer Bell
Owned by Melissa and Erica Dreyer, and Kanishk Gupta
First show, 4-6 month old puppy competition, Best Puppy in Show, Gulfport, MS!!
Finished with three 5-point majors from the Bred by class at 8 months old!! Two of those wins included a BOV and a BOS over specials
Embark panel: Factor VII at risk, all else clear. OFA results: Hips pre-lim good, Eyes normal, Heart normal by ECHO. Carries red.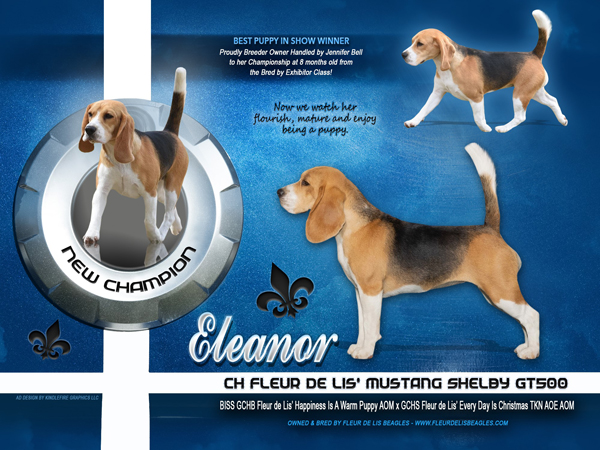 PEDIGREE:
J RUS CH RUS CH Pun Kotzky Man O'War
CH Fanta's Brand One And Only
RUS CH Barstail Desire Of Glory
SIRE: 15" GCHS Fleur de Lis' Happiness Is A Warm Puppy, AOM
RBIS GCHG Lokavi's Battle Flag Of The South, AOM, AOE, CGC, TKI, BCAT, CAA, RATN, RN, BN, TT
CH Hottex's Trick Or Treat
CH Hottex's Sugar and Spice
BIS BISS GCHG Belcanto Flags A'Flyin
RBIS GCHG Lokavi's Battle Flag Of The South, AOM, AOE, CGC, TKI, BCAT, CAA, RATN, RN, BN, TT
GCH Belward N'Sureluv's Bring It On
DAM: 15" GCHS Fleur de Lis' Ever Day Is Christmas, RI, TKI, CGC, AOM, AOE
CAN CH Daragoj Heaven On Earth
GCH Pun Kotzky Heaven Help Us All At Fleur de Lis, AOM, RATI
CH Eardley Ida Clare