Our Dogs > Rebel
RBIS GCHG LOKAVI'S BATTLE FLAG OF THE SOUTH, AOM, AOE, RN, BN, CAA, RATN, TT, BCAT, TKI, CGC 15"
"Rebel"
Owned by Jennifer Bell and Jennifer Bewley Robbins
Bred by Lori Norman, Helen Hemby, Mari Ann Meli
2012 NBC National Specialty AOM winner
2012 AKC National Championship Select Dog
2013 AKC National Championship AOE winner
2014 NBC National Specialty AOM winner
2016 NBC National Specialty AOM winner
2012, 2013 and 2015 Top 10 Qualifier
2019 National Specialty AOM winner
2019 National Specialty Best 15" Veteran
2019 NBC Stud Dog of the Year recipient
2021 NBC BOS in Veteran Sweepstakes winner
Sire of 22 Champions (many are GCH)
Embark Panel: FVII at risk, all else clear.
OFA Results: hips mild, thyroid normal, eye Cerf normal, heart ECHO normal, patellas normal.
See OFA results here.
Dominant black tri.
Available at stud using frozen only.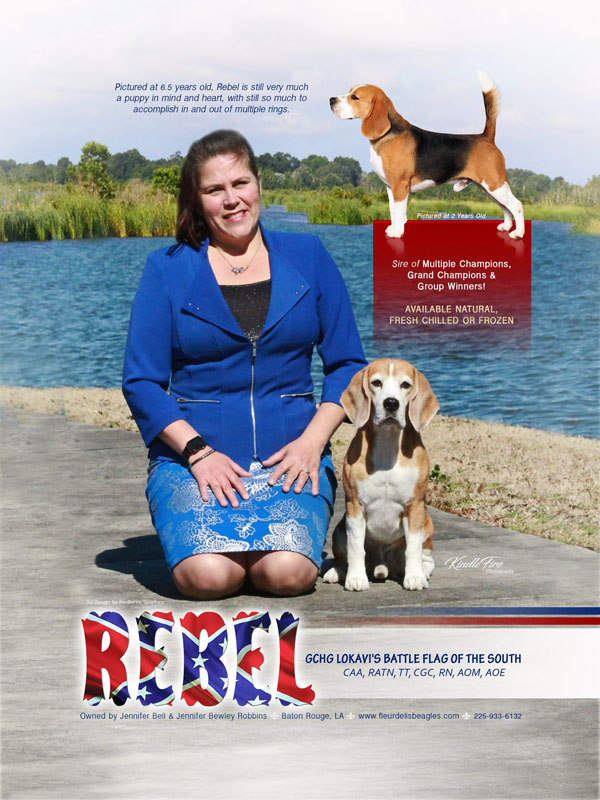 PEDIGREE:
CH Ha-Penny's Clarion
BISS CH Ha-Penny's Too Much Trouble
CH Echo Run Calliope of Ha-Penny
SIRE: 15" BIS BISS GCH Belcanto Flags A'Flyin
BISS CH Springfield N'Skyline's Big Shot
CH Skyline N'Scentini's Chit Chat
CH Skyline's Charismatic
CH Roirdan Lanbur Crystal Knight
CH Roirdan's Take It To The Limit
CH Shoreview's Onion Bagel
DAM: 15" GCH Belward N'Sureluv's Bring It On
CH Lokavi's Hole In One
CH Lokavi Belward's On The Ball
CH Lokavi's Just A Dream